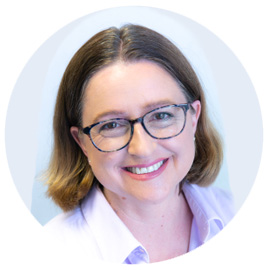 LINDY'S CREDENTIALS
TERTIARY QUALIFICATIONS
Bachelor of Applied Science OT 1993
The University of Sydney
Cumberland College of Health Sciences
PROFESSIONAL ASSOCIATIONS & MEMBERSHIPS
AHPRA
Case Management Society of Australia
NSW Association of Occupational Therapists 

PREVIOUS MEMBERSHIPS
Special Education Advisory Committee 
 Board of Studies Teaching & Educational Standards NSW
Treasurer NSW Parents Council
Representative for special needs students 
Lindy Williams
Senior Occupational Therapist & Rehabilitation Consultant
B.App.Sc (Occupational Therapy)
Lindy graduated from the University of Sydney in 1993 and has worked with children and adolescents for the past 28 years.
Lindy has worked in rural community health paediatrics, in the School Aged and Adult programs at The Cerebral Palsy Alliance (CPA), in the Rehabilitation and general Occupational Therapy Department at the Children's Hospital at Westmead, and at Lighthouse Health Group for the last 14 years providing occupational therapy services to children and adults.
Lindy is an accredited occupational therapist for NDIS participants and registered with Medicare and Private Health Providers.  She is also accredited to administer the WeeFIM assessment and is an accredited NDIS simple and complex home modifications provider.
Lindy is passionate about supporting children and their families with evidence-based, fun family focused practice that addresses the child's goals and individual needs.
Lindy believes that a strength-based approach facilitates a child's development and empowers the child to achieve their goals and generalise their abilities across daily activities.
More about Lindy
Lindy believes a multidisciplinary team approach with the family at the centre is essential.
Lindy has a special ability to connect with children and families, and has personal experience of neuro diversity, ADHD and children with joint hypermobility syndrome.
Lindy has particular skills and experience in the areas of Neuro-Occupational Therapy and children with physical disabilities.  Lindy has worked for many years with children with brain and spinal injuries, and children with a range of diagnoses such as spina bifida and complex genetic conditions.
Lindy's area of expertise includes:
Developmental delays

Babies and achievement of early milestones

Fine motor skill development

Development of hand preference

Handwriting

School readiness

Adaptive and assistive technology prescription

Wheelchairs and seating

Joint hypermobility syndrome;

Low muscle tone

Spasticity management and hemiplegia

Upper limb issues and hand function

ADHD and learning difficulties

Neuro diverse children

Self-help skill development

Supporting school placement and engagement in all areas of the curriculum

Visual perceptual and visual motor integration difficulties

Developmental Coordination Disorder (DCD)

Gross motor skill development

Expert Medico-Legal assessment and reports

Supporting OT students develop skills for entry into OT practice

Case Management
Team NSW