Wound Management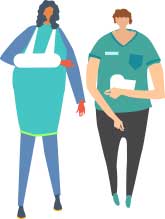 Community Care
Lighthouse Health Group understands the challenges faced by Health Care Practitioners, Care Facilities and those living with chronic wounds with regards to accessing specialist wound care consultancy services within the community and residential Aged Care settings.
More
Our mission is to provide best-practice wound management consultancy, treatment and support services, while promoting the client's independence and involvement in their wound care regime. 
Our Wound Care Consultants are able to assess and review clients via face-to-face home visits as well as via Lighthouse Health Group's eHealth services.
Wound Care Education
The Lighthouse Health Group Wound Management Practice is also equipped to provide Wound Care Education packages to Care Facilities. 
These education packages aim to improve staff knowledge and wound management practices in a variety of nursing care settings, including Residential Aged Care Facilities. 
More
Our Educational packages are tailored to suit each individual care setting to ensure the education provided is relevant to the facility, their staff and clients. 
All Educational Packages are delivered by Lighthouse Health Group's own team of Clinical Nurse Consultants who have extensive experience in both community and facility-based settings.
Why not chat with us and see if we can assist you or answer any of your questions about Lighthouse Health Group's Wound Management treatment, practices and educational packages
Services